Purchasing an item from a school ParentPay Shop Page
If the school that your child attends use an online shop to sell uniforms, exam resits or music tuition etc. The school may issue you with a URL or a shortcut on their school webpage. Once you have this you will be able to make purchases online. The school will receive the order and process it ready for you or your child to collect from the school.
The images below shows a typical ParentPay shop page for schools
There may be more than one size, colour, price or options for individual items. School will monitor the stock levels so be aware of the Low stock or Out of Stock indicators.


Note: Additional variants may have a different price associated, click the drop down under the option section to view this information.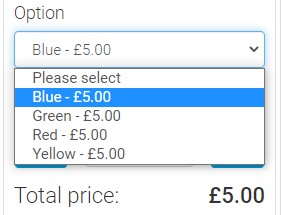 Select the option that best suits your child's requirement.


If more than one of the same item is required, increase the number required by tapping the plus symbol.




Once you have the correct number of items selected, Select add to basket.



A small notification will appear in the bottom left corner of your screen






Add more items to the basket if required.
Once you have completed your shopping select the shopping trolley icon at the top of your screen.




Your basket contents and the total cost of your purchase will be displayed.




Select Continue

Complete the details on the form – Note the mandatory fields *



Note: This information is required so the school can issue the correct items to the to correct child in the school.



Complete the next section




Some information is needed for security and fraud checks, click the links to see the full information





Once all details have been completed select the Proceed to payment page.



Complete the payment information





Again there is some additional information stating why we need the information from you before submitting your details.



Once your payment details have been entered

Select Review payment



If you are ready to place your order select Pay Now

A success screen will then appear



Select Complete order and return to shop page. This will complete your order so you are able to close the browser page. An email will be sent to your email address with the details of the order.